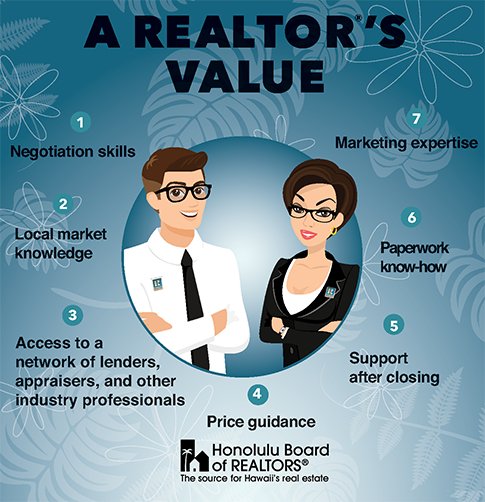 NEGOTIATION SKILLS:
Purchasing a home is probably the biggest financial decision you'll ever make—Realtors® are practiced in the art of negotiation, and can help you get into your next home on time and on budget.
LOCAL MARKET KNOWLEDGE:
Location, location, location. We've all heard it before—because every market is different, you need a Realtor® who knows the local market inside and out.
ACCESS TO A NETWORK OF LENDERS, APPRAISERS AND OTHER INDUSTRY PROFESSIONALS:
Realtors® have worked with dozens of local professionals, from financing to landscaping, and everything in between—skip the online searches and tap into your Realtor®'s rolodex.
MARKETING EXPERTISE:
Listing a house is more than just placing a yard sign—a Realtor® can get your property seen by thousands of potential buyers using a variety of online and in-person marketing techniques.
SUPPORT AFTER CLOSING:
Realtors® will be there for you even after the sale—whether you need advice on a plumber or you're not sure what color to paint your new living room.
PAPERWORK KNOW-HOW:
Who has time to sort through 14 pages of a purchase contract, with its many confusing terms, to make sure you're getting the best deal? Your Realtor®, that's who!
PRICE GUIDANCE:
Pricing is critical—an overpriced home may languish on the market for months, disappointing sellers. On the other hand, no buyer wants to fork over more than a property's worth. Whether you're the seller or the buyer, a Realtor® can advise you on a property's best price.
Don't have a REALTOR®? Browse our REALTOR® Directory to get started